Margaret River Landscape Photography Weekend - March 2023
March 4:30PM 17th - 8:30AM March 19th 2023
4 Places remaining (as of 15/01/23).
Capture world renowned scenery of the Margaret River Region, under guidance from Seng Mah & Nathan Dobbie in this weekend workshop for lovers of landscape photography!


Located just 3 hours south of Perth, Margaret River is the perfect location for a short photography getaway. Over the weekend we'll be capturing a stunning and diverse array of locations which include the southern forests, waterfalls, and of course the magnificent coastline that the southwest is known for. We have curated this weekend to provide the best photographic opportunities for landscape photography!

This small group workshop is aimed at beginner - intermediate photographers. There is a maximum of 10 participants between two professional guides, so you are guaranteed to have plenty of individual assistance.


Tour Highlights:

- Sunrise shoot at the Barrett Street Weir. This quiet location is tucked-away near the Margaret River townsite and features a quiet scene with remnant trees rising out of the water.
- Sunset shoot at Honeycombs Beach. A beautiful but lesser known beach that is ever changing as the waves always reveal and conceal sections of rocky coastline.
- Sunrise shoot at Redgate Beach, where we will witness the powerful Indian Ocean as the swell crashes into the rugged coastline.
- Sunset shoot at Yalgardup Falls, also known as the Kevill Road Waterfall where the river plummets over a wide rocky ledge in the forest (If there has been recent rainfall, otherwise we will schedule an alternative sunset location).
- Photographing Boranup Forest. It's current regrowth phase after the 2021 bushfire provides a unique imaging opportunity.

What will I learn?
- Setting up your camera for landscape photography: Learn which camera gear is necessary to capture your desired images.
- Photography fundamentals: How to shoot using manual mode & understanding aperture, ISO, shutter speed, and white balance.
- Composition techniques: Create captivating images that stand out from the rest in a positive way.

- Planning: Learn to plan your photography for the best results. This includes using natural light effectively and using apps to predict ideal conditions for each shoot.
- Shoot with intent to process: Optimize your on location shooting to allow for better results in post processing later.
Strictly limited to 10 participants!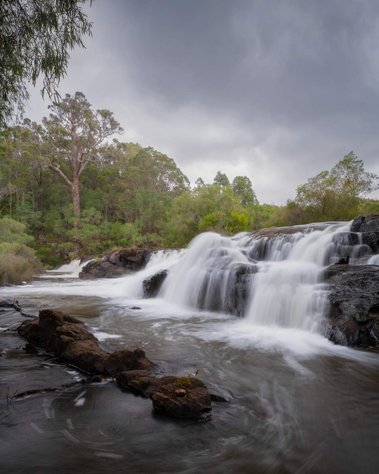 What to bring:
We'll be doing a small amount of walking to get to our photography destinations on some of the days so please come prepared and wear closed in shoes.


It can become very cold and windy in the Southwest at this time of year, please bring warm clothing, including a rain jacket, beanie, gloves just in-case!
Recommended Photography Equipment
Photography equipment is NOT supplied. At a minimum, you need your own camera, tripod, lens(es), memory cards (with plenty of space), and batteries (fully charged).


There are photographic opportunities for any focal length at our workshop locations, but if I could only choose one lens to bring with me on this trip, It would be a 24-70mm as this is a great all rounder for landscape photographers.

A good, sturdy tripod is highly recommended. You'll want one that allows full control of the leg angle, as this can be critical for setting up on uneven ground and getting the camera nice and low. I recommend that you have a ball head attached to the tripod also, as this will allow you to easily level your camera once set up. Read my free guide to choosing the right tripod for landscape photography for more information.

I also recommend bringing some lens filters for this trip, particularly a polarising filter (CPL), and a medium-density ND filter (e.g. 3-6 stops). Read my free guide to lens filters for landscape photography for more information.
BOOKING
The workshop price is $750pp and there is a maximum of 10 participants.
Complete and submit the form below to reserve your place in this workshop. For information on refunds and late cancellations, please refer to the above Terms & Conditions.