Top End Photography Tour 2023 | Litchfield National Park & Katherine
May 22nd - 27th
MAXIMUM 8 PARTICIPANTS

Join Nature By Nathan and Seng Mah from Venture Photography Workshops on this 7 day landscape photography workshop in the tropical Northern Territory.

On this tour we will be visiting the outback town of Katherine which is well known for it's rugged and beautiful landscapes. We'll photograph the Katherine Gorge from the towering viewpoints of Nitmiluk National Park, walk through lush rainforests around the waterfalls of Litchfield National Park, and swim in pristine freshwater hot springs in Elsey National Park.

All of our beautiful photography locations are within 4 hours from Darwin, and our longest drive will be just 3hrs and 20 minutes, with majority of them being much shorter!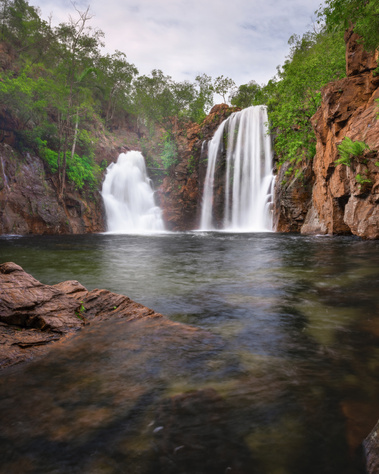 What's included?
- 6 days of professional photography guidance and feedback. Nathan Dobbie and Seng Mah will be coaching you to get the most out of your camera equipment with on location assistance and post processing.
-Travel throughout the tour (In a hire minibus)
- Accommodation throughout the tour dates.
-Park entry fees

- A guided tour to some of the most incredible scenery in the Northern Territory!

What will I learn?
- Setting up your camera for landscape photography: Learn which camera gear is necessary to capture your desired images.
- Photography fundamentals: How to shoot using manual mode & understanding aperture, ISO, shutter speed, and white balance.
- Composition techniques: Create captivating images that stand out from the rest in a positive way.

- Planning: Learn to plan your photography for the best results. This includes using natural light effectively and using apps to predict ideal conditions for each shoot.
- Exposure blending: Using on location practical techniques, followed by adobe post processing. This is an invaluable technique to learn for landscape photographers when photographing sunset/sunrises & for astrophotography.

-Image Stacking: Combining multiple images to create a specific effect. There many different types of stacking such as focus stacking, stacking to reduce noise at a high ISO, and stacking to create a long exposure effect.
- Post processing: Editing images from start to finish using Adobe lightroom &/or Photoshop.
Strictly limited to 8 photography participants! See tour highlights below.
Katherine & Mataranka
After we depart Darwin, we'll drive inland to Katherine where we will visit the beautiful Edith Falls, Nitmiluk National Park, and multiple hot springs over the next few days.
Litchfield National Park
We're saving the best til' last on this tour! Following Katherine, we'll be heading back towards Darwin to visit the lush Litchfield National Park. If beautiful rainforest, towering waterfalls, and freshwater swimming holes sound good to you, then you'll love it here!
What to bring:

Recommended Photography Equipment

Photography equipment is NOT supplied. At a minimum, you need your own camera, tripod, lens(es), memory cards (with plenty of space), and batteries (fully charged).

If I could only choose one lens to bring with me on this trip, It would be a 24-70mm I would also recommend a 14-24mm for full frame users, and a 10-24mm for crop sensor users.
A good, sturdy tripod is highly recommended. You'll want one that allows full control of the leg angle, as this can be critical for setting up on uneven ground and getting the camera nice and low. I recommend that you have a ball head attached to the tripod also, as this will allow you to easily level your camera once set up.
I also highly recommend participants to have a polarising (CPL filter) for their lenses. You can view my guide on tripods, or filters for more information.

BOOKING
To book we require you to fill out this 2023 Top End Photography Tour Form and we will then contact you to organise invoicing and gather any other information necessary.
Maximum 8 photography participants! If travelling in your own vehicle non photographer friends and family are welcome to join for a small fee to cover costs with some conditions.
Pricing is as follows:
- Twin share Accommodation - $5498 per guest twin share (Twin share is available for guests traveling with a nominated friend or partner who is also a paying guest on this tour ie. sharing a room with your friend/partner).
- $5980 for guests who want their own room (ie. not traveling with another paying guest).
Reserve your place
A deposit of AUD$1500 will secure your place on this tour, with the balance due by 1 March 2023. Note that the deposit is fully refunded if the tour is cancelled due to not attaining minimum numbers.